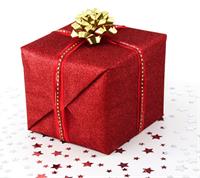 Happy birthday to us and Happy Holidays to all! 'Tis the season for gifts, games, and good friends! Everyone is invited! Join your yogi friends at Indigo Yoga on Friday, December 14th at 7pm for a festive night of cookies and snacks, hot chocolate and drinks, some live music ….. and everyone's favorite holiday game! This game goes by many names: pollyanna, secret santa, white elephant exchange, thieving elves, the grinch exchange, rob a santa, etc. Call it what you want, but come play!
How to play:
Bring a wrapped gift (valued at $10-20) to go in our pile of presents!
We will draw numbers at random to choose the order of present-pickers.
The first player will choose any wrapped gift to open.
Player 2 can either steal player 1's gift, or open a new present from the pile.
Player 3 can steal any one of the previously opened gifts, or open a new present from the pile. (This will go on until everyone has a gift)
The game will be yoga-inspired, so here are just a few gift ideas to give you some inspiration:
– yoga mat, props, and accessories
– Buddha figurines and yoga-inspired art and home decor
– Essential oils, diffusers, and candles
– inspirational books
– Karma Charms, malas, or other yogi jewelry
– Indigo Yoga clothes or gift cards!